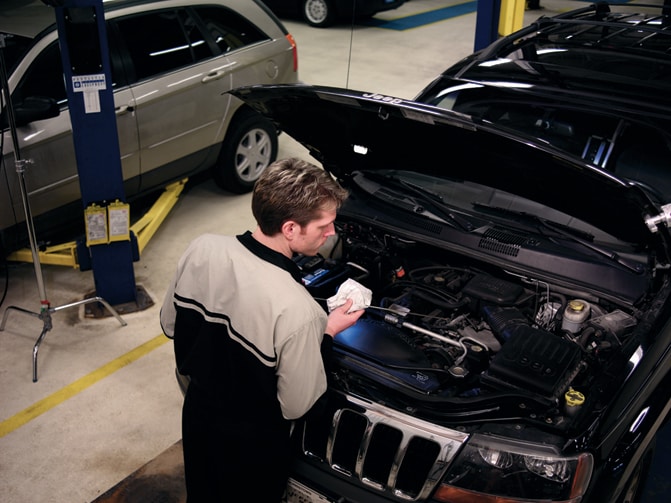 ?
Summer is in full force here in Paso Robles, so it's the perfect time to dive deep into planning those summer getaways. Of course, before you head off anywhere, you'll want to make sure your vehicle is in good enough shape to make the trip. After all, nothing pulls the plug on summer fun like car trouble halfway into an adventure. Luckily, our Mopar service center is here to make sure your ride has what it takes to keep kicking all summer long.
Popular Summer Services
Keeping up with your car's routine maintenance schedule near San Luis Obispo is essential if you want your vehicle to perform at its best, but the summer calls for a little extra TLC to make sure your ride can beat the heat. Here are a few of our most popular and important summer services:
Oil change: Make sure your engine has plenty of fresh oil so it stays cool and lubricated.
Tire rotation: Get the most out of your tires near Arroyo Grande by swapping the front and rear tires.
Tire pressure check: Driving on over- or underinflated tires can cause premature wear.
Battery check: Extreme heat can have a negative effect on your battery's performance, but a quick battery check near Atascadero will make sure it's in good shape.
Fluid top-offs: Keep your car's power steering, brakes, and other systems running smoothly with plenty of the necessary fluids near Morro Bay.
Wheel alignment: Hitting curbs and potholes around Monterey County can knock your wheels out of alignment, but we can straighten things out for you to help you avoid excessive wear on your tires.
Brake inspection: The power to go is only as good as the power to stop, so a brake check near Greenfield to make sure you have the stopping power you need for a safe drive is important.
Schedule service today to whip your vehicle into shape for summer!