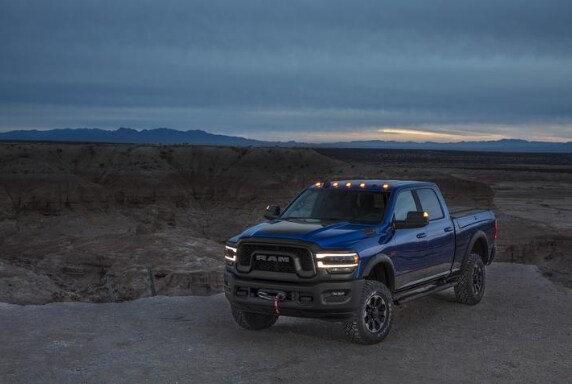 There's one truck out there that immediately screams power without having to be further explained. The 2019 Ram Heavy-Duty doesn't just look powerful, it offers impressive engine capabilities that work perfectly with standard transmissions and drivetrains. If you're looking for something that can tow even the largest boat, or if you just need a truck with a high payload capacity--you need the Ram HD. Down below we go further into what makes this pickup truck so powerful, and why you need to drive it home. Whether you want it for personal use, or as an addition to your business, there's no reason to hesitate with the 2019 model. Keep reading down below to find out more!
The Engines:
The standard engine with the Ram HD is a 6.4-liter HEMI V8, which can produce up to 429 pound-feet of torque and 410 horsepower. This engine has all of the power you need to handle the requirements of the average heavy-duty truck user. If you're looking for something that truly knocks it out of the park with power, then you're looking for the Turbo Diesel. There are two variants of the same Turbo Diesel engine, which will get you power that can't be matched by the competition. The first variant is a 6.7-liter Cummins High Output Turbo Diesel, which can produce an astonishing 1,000 pound-feet of torque, and around 400 horsepower. These numbers might seem impossible, but they aren't a typo, we swear. This engine weighs less than previous-generations, mostly thanks to a new cast-iron cylinder head that works with a new block. This block includes new rocker arms and new exhaust valves and springs. The second variant of the Cummins Turbo Diesel produces around 850 pound-feet of torque and 370 horsepower. 
The Transmissions:
The standard 6.4-liter engine comes with a TorqueFlite 8HP75 eight-speed automatic transmission. This transmission is incredibly special, thanks to the over 40 individual shift maps that help to optimize shift points for drivability, economy, and performance. This transmission also uses shift-by-wire, which eliminates the mechanical linkage between the gear selector and the transmission itself. The other models that are equipped with the Turbo Diesel engine get an Aisin AS69RC electronically controlled six-speed automatic transmission. This transmission is has been created specifically to handle the amount of torque that is generated by this engine. Along with getting a few hardware upgrades, this transmission gets a new controller with a dual-core processor and double the memory. This simply means that the transmission has more precise shifts under ever driving condition.
If you're looking for the right truck to help out with your business, or just in daily life, then you need to think about the powerful 2019 Ram Heavy-Duty models. These trucks can take on any task, large or small, and give you the desired outcome. With a truck that can pump out up to 1,000 lb-ft of torque, it's hard to imagine anything better. Check out
our online inventory
, or better yet, come on by our dealership, and we'll have a salesperson walk you through our lot to try and find the truck that best fits your needs.